We are always thrilled to receive good feedback from our students, but this was something special – not only did Alice Marshall, who came to our Contemporary Tiered Wedding Cakes Class, take beautiful pictures of her work while she attended Contemporary Tiered Wedding Cakes Class, she also documented her days at Fair Cake in some detail. Over to her!
Let them eat (beautiful) cake 
I have loved making cakes for friends and family for a few years and, recently, I've started to dabble in wedding cakes. Dabbling has graduated to full-blown obsession and I now have a little waiting list of friends who'd like me to make their wedding cakes. Super exciting although more than a little nerve-wracking! With this in mind, I felt it was time to take my game up a notch and find myself a course or two.
Having initially found Fair Cake while browsing Instagram, I researched all of their amazing classes and, after much deliberation, decided to do their Seven-Day Contemporary Tiered Wedding Cakes Course. Nestled in Greenwich, The Fair Cake studio is only a few minutes walk from the legendary Cutty Sark, through the picturesque Royal Naval College on the banks of the Thames. The well-equipped studio has a light and airy feel and was a lovely place to spend a week.
On the first morning, my fellow bakers and I were greeted by Graziella (@designsucré) and Agne. The first few minutes were spent getting to know one another. There were eleven of us from all over the world: Sweden, Saudi Arabia, the States and even Japan! It was fantastic to be surrounded by so many like-minded people, a crowd who were as enthusiastic about artisan baking as I was. Graziella introduced herself and it was obvious from the start how passionate she was about making wedding cakes for brides and competitions alike. Her enthusiasm was utterly infectious.
Our first morning was spent making sugar flowers. This was a totally new skill for me and one I had particularly looked forward to. Graziella was wonderful, she demonstrated each step in the process and by lunch time we had all made a complete and beautiful rose. We each had a different colour, so the end result was a rainbow bouquet of roses – a stunning visual. In the afternoon, we worked on individually wired leaves, intricate peony petals and delicate cherry blossom.
Tuesday was a much messier day! We started by levelling square sponges, followed by filling and covering them with ganache. I had used ganache previously at home, but I hadn't ever had the results I achieved after taking on board all of Graziella's tips. By lunchtime, we had made wickedly sharp edges cakes (and a lot of chocolaty mess around the studio!).  That afternoon, while the chocolate set, we went back to working on our flowers and leaves. Using the dust colours, we brought our peony petals to life – the fiddly bit was bringing together the petals with the stamen to make the completed peony. We connected the leaves and cherry blossom to make a beautiful branch to go on our finished square cakes, which we then covered with fondant icing. Graziella's signature techniques made achieving super sharp edges a piece of cake (sorry, had to be done).
On Wednesday morning, we were joined by Laura (@grixcaledesign). She has an unbelievable background in baking and decorating and was going to be teaching us for the rest of the week. We started by completing our first tiered cake of the week: we made panels to fit on each of the sides of our dummy and cake, then stacked the cake itself. At the end of the day, we all took our cakes home. My cake didn't get that far – I called into my brother's office where his work colleagues devoured the entire thing in minutes!
Thursday and Friday were spent making our tallest project of the week: a 3-tiered wedding cake incorporating a different decorating technique on each level. This cake was round, so although the processes of covering it was similar, there were still lots of new tips that Laura happily shared with us to get the perfect bases for the fondant.
We used silver leaf on the top tier (I have attempted to use it in the past to disappointing effect); with the detailed explanation and demonstration of the do's and don'ts, I now feel totally confident using it. I think my favourite part of this cake was the striped tier, the precision needed to make the simple pattern pop really appealed to my inner perfectionist. On the base tier, we used traditional Royal icing to complete the contemporary look. Laura shared some invaluable tips and tricks, all of which will seriously revolutionise my game going forward.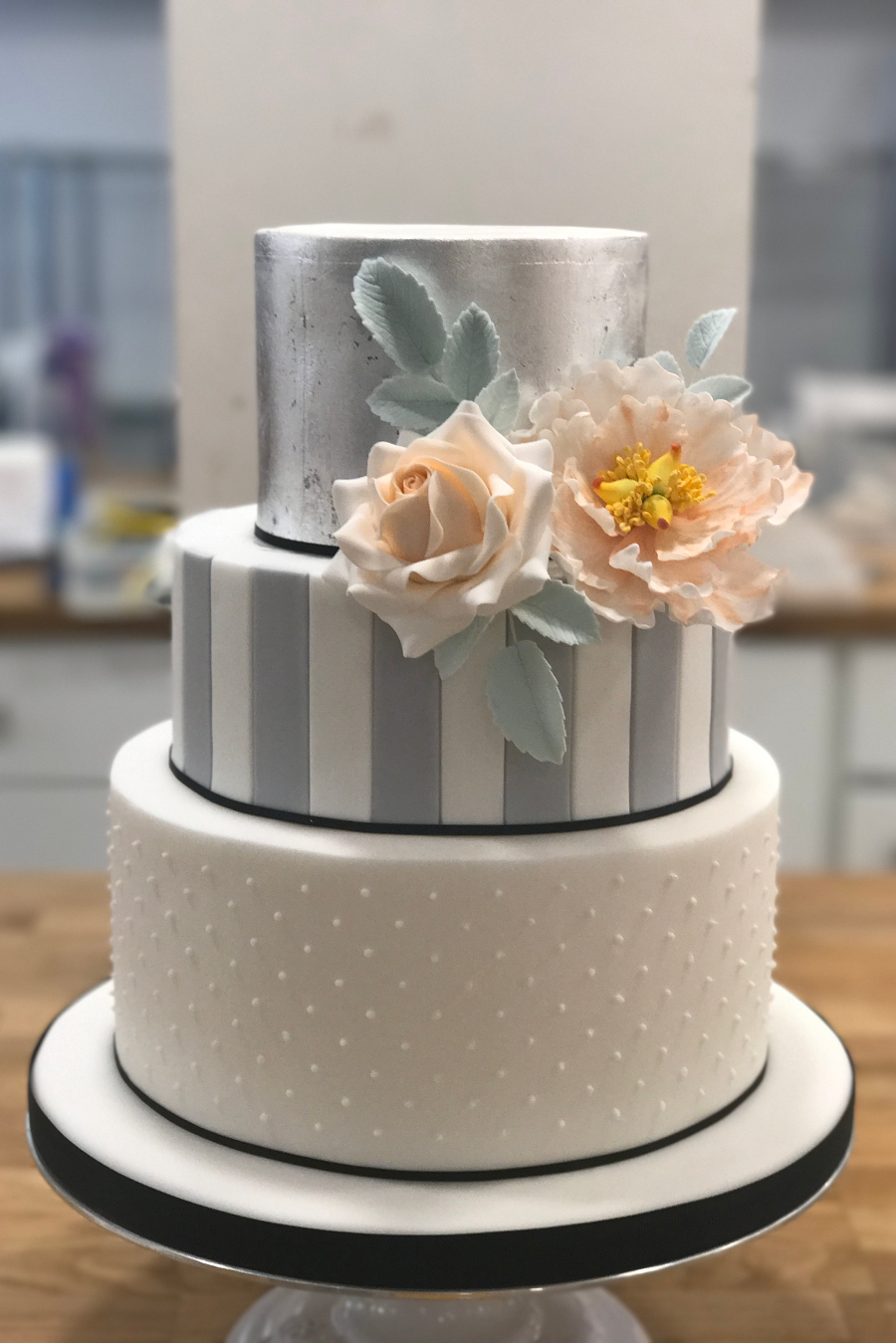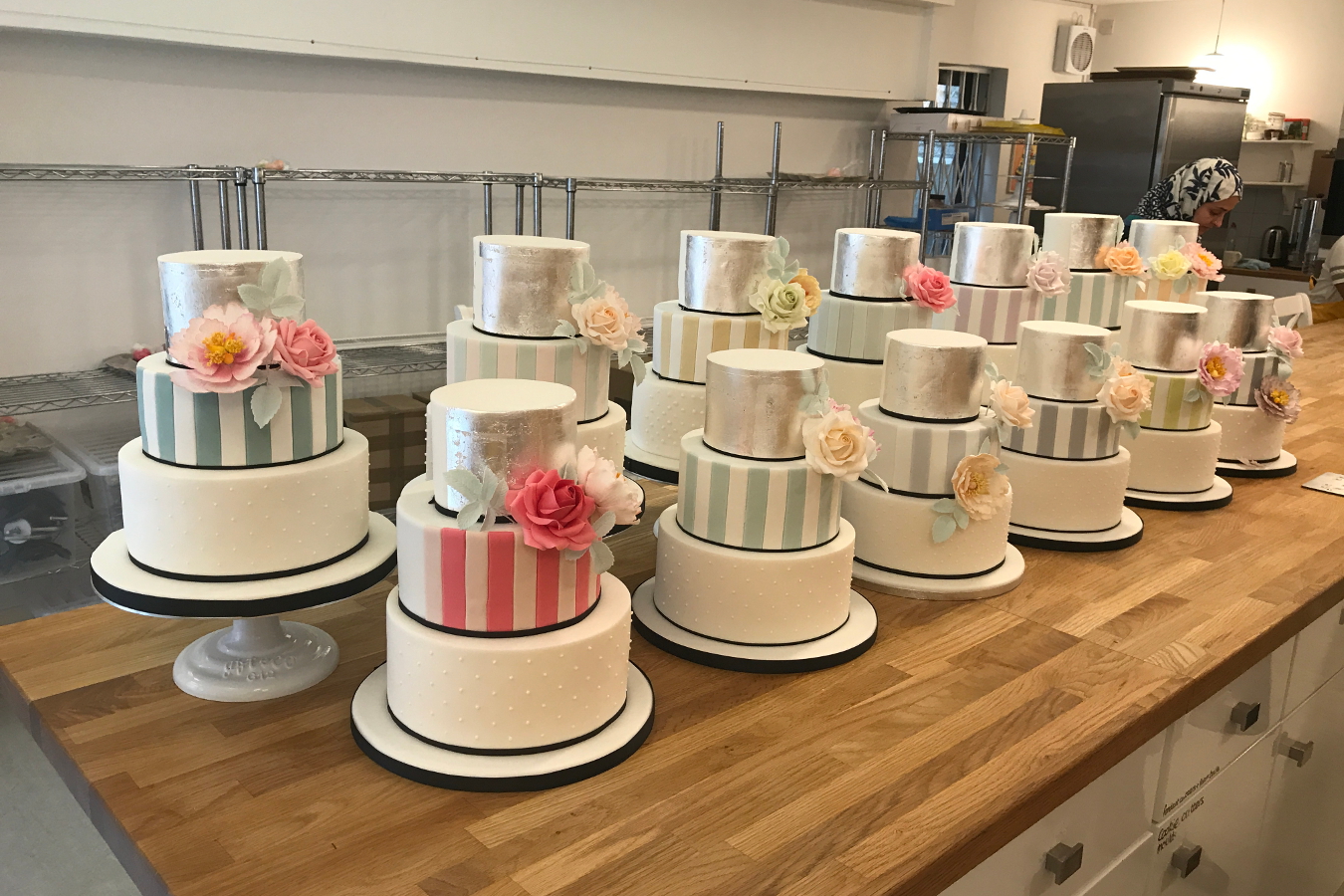 Over the weekend, we stacked and covered an extended tier. Although this had a lot of similarities to the lower cakes we had done earlier in the week, Laura taught us about the importance of supporting tall cakes. We covered the extended tier with a marbled fondant using rolling pin technique. I found this VERY tricky but Laura was on hand to came to the rescue, helping me to successfully get the fondant onto the cake. Once we had covered our cakes and perfected our sharp edges on both cake and dummy, we moved on to decoration. We made small blackboards using fondant which we decorated with our chosen letter and more sugar flowers (that we had made the day before with Laura).
I thought I would enjoy the week, but I didn't realise how much I would ABSOLUTELY adore it. I loved every single second and was so sad that it had to come to an end!
Overall support from the tutors and assistants was second to none. They were continually happy to share their own experiences and techniques in a bright and approachable way. I have built hugely on my own self-taught skills and have learnt many, many new ones. I've also, as a lovely side note, made some great new friends and I have discovered a new passion in sugar flowers. I can't wait to practice what I've learnt and hopefully return to Fair Cake for a specific flower course very soon. Highly recommended, unequivocally.
——
Follow Alice's cake adventures on Instagram
——
If you would like your experience at Fair Cake featured in our blog, please email hello@faircake.co.uk